The Bribe Payers Index reveals the 'supply side' of corruption, sharing the blame between developed and developing countries Companies from the world's most powerful economies are still thought to routinely pay bribes when doing business abroad

, despite a steady stream of new laws and international commitments to stamp out foreign bribery, according to an index that aims to balance the "blame" for corruption between developed and developing countries. Russia and China, which together invested some $120bn overseas in 2010, are ranked the lowest in the latest Bribe Payers Index, published on Wednesday by anti-corruption campaign group Transparency International. Firms from other "emerging economies" – including Mexico and

Indonesia

– are also among those seen as most likely to bribe abroad.

While many of the world's traditional economic powers continue to suffer from little to no growth, emerging economies have gained mushrooming attention around the world for dramatic growth forecasts and increasing levels of trade and foreign investment – particularly in some of the world's poorest countries. According to the Chinese ministry of commerce, for example, China's investment in Africa increased by 565% over the past seven years.

Wednesday's index, which relies on a global survey of 3,016 business executives, ranks the world's 28 leading export countries on the perceived likelihood that their firms pay bribes overseas. Countries are scored on a scale from 0 to 10: the more a country's companies are thought to engage in bribery abroad, the lower the score. First published in 1999, the index attempts to fill in an otherwise partial picture of global corruption, where a seemingly steady stream of reports of corrupt public officials in developing countries is met by relatively little about those who pay the bribes in the first place. It aims to balance the blame between the bribe-givers and the bribe-takers, and to monitor commitments from the world's richest countries to control what economists call the "supply side" of corruption. In this year's index, the Netherlands and Switzerland earn the highest scores, with Dutch and Swiss companies seen as least likely to bribe abroad. But none of the 28 economies covered by the index is seen to have a wholly clean business sector and there has been no improvement overall since the index was last published in 2008.
Six countries – Argentina,

Indonesia

, Malaysia, Saudi Arabia, Turkey and the United Arab Emirates –

were included in this year's index for the first time and all fall in the bottom half of country rankings

. Recent legislation in G20 states has given some campaigners hope that the recent explosion of public interest in corruption might help stamp out foreign bribery – both Russia and China have recently passed laws criminalising foreign bribery by firms headquartered in their countries.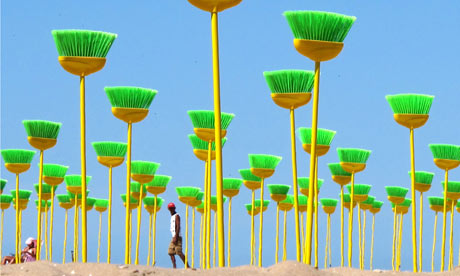 Demonstrators put 600 green brooms on Copacabana beach to protest against corruption in Brazilian politics. Photograph: Rex Features

But eight years after the high-profile adoption of the UN convention against corruption, observers say there has been little real progress. Four G20 countries – Germany, Japan, India and Saudi Arabia – have yet to ratify the UN convention. Little progress has also been made on the older OECD anti-bribery convention: a 2011 progress report found that 21 out of the 38 signatories – including Australia, Brazil, Canada, Mexico, South Africa and Turkey – have rarely, if ever, enforced the convention.



Meanwhile,

promises by G20 countries at last year's summit in Seoul, South Korea, to develop an "effective global anti-corruption regime" have been criticised for lacking details and concrete deadlines

. The G20 anti-corruption working group is expected to publish the findings of its first monitoring report on Thursday, the start of this year's G20 summit in Cannes. Much like Transparency International's more well-known Corruptions Perceptions Index, Wednesday's report is based on experts' perceptions rather than concrete evidence of bribery.

Hard data on corruption is understandably difficult to come by. Hard evidence about the full impact of bribery on developing countries' economies is largely anecdotal or based on individual case studies. Earlier this year Benjamin Olken from MIT and Rohini Pande from Harvard reviewed the latest academic evidence on corruption and found "more questions to pose than concrete answers". We've pulled out the rankings and country scores for both the 2011 and 2008 editions of the Bribe Payers Index. What can you do with the data?

guardian.co.uk